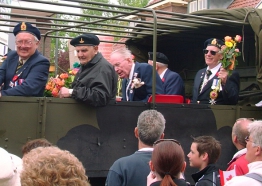 HOLLAND LIBERATION 70th ANNIVERSARY 2015
On May 5, 2015 Holland will celebrate 70 years of Liberation. The Dutch people with to celebrate and commemorate these events with their liberators, their families and all the Canadian friends.
Welcome Again Veterans Foundation will organize a pilgrimage for the Canadians who participated in Holland's liberation. With the support of the Royal Canadian Legion Branch #5 (Netherlands) and participating host towns, there will be a comprehensive and exciting program for the entire event.
Click on this link HOLLAND LIBERATION CELEBRATION 2015 to download the brochure.
You will also need to download one of the following booking forms:
HOST FAMILY STAY BOOKING FORM– World War 2 Veterans, the child of a veteran and a travelling companion are eligible to stay with the family during the celebrations.
HOTEL PROGRAM BOOKING FORM– This option is available to anyone who would like to participate and experience the celebrations.
VERSTRAETE TRAVEL CRUISES
We are fully appointed, accredited and licensed, representing all airlines, tour operators and cruise lines.
We have two offices in Ontario that service hundreds of clients from coast to coast - one in St. Catharines and the other in Aurora.
Our travel agents are experts in their field. Most of them have been with us for many years, have earned numerous travel industry accreditations and have travelled the world. They love nothing more than to create special memories for our clients.
We are the exclusive Canadian agency for the Welcome Again Veterans Foundation and so were extensively involved in the 50th anniversary of the Liberation of Holland in the spring of 1995. Holland Liberation tours have continued and take place every year, with major emphasis on grand tours every 5 years (2000, 2005, 2010 etc.). We also specialize in WW1 and WW2 European Battlefield tours, Israel, Greek and Turkey, Mediterranean, Alaska, European River and Caribbean Cruises.
It is a bond of friendship that has spanned over 70 years and in May 2015, the Dutch people have invited their Canadian liberators, relatives and friends to come celebrate that friendship.
For the past 25 years Verstraete Travel Cruises have partnered with the committees in Holland to facilitate the travel arrangements for Canadians wishing to participate in this program.
Every year, in the first week of May, there are ceremonies and events that are organized by the Dutch people to honor and remember their liberation from the Nazi occupation by the Canadian troops.
Welcome Again Veterans Foundation with the support of the Royal Canadian Legion Branch#5 (Netherlands) are rolling out the welcome mat in 2015, inviting veterans, their families and all Canadians to 8 days of commemoration and activities from May 1-10, 2015.
Host family accommodations are offered in various towns to veterans and/or their immediate family members. Additionally, there are hotel stay options available in Apeldoorn, Zutphen and Deventer.